Well connected with the Erding tourist region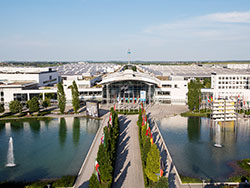 Half way between Munich airport and Munich's trade fair grounds lies the Erding region. Many visitors to the trade fairs there gladly exploit this central and accessible position close to the gates of Munich and make the Erding region their starting off point.
As not only the Munich trade fair grounds but also the Erding region lie east of Munich it is possible to avoid the big traffic interchanges and also Munich's centre and so reach the grounds relatively stress-free and without traffic jams - even if there is a big international trade fair on. Indeed it's only a few kilometres to the trade fair motorway, the A94, and then barely a 30-minute drive.
In addition Erding is on the S2 S-Bahn (suburban train), as is Riem. So you can get to Riem directly, where you can take a short bus drive to the grounds themselves.
The Mühldorf – Munich train stops in Dorfen, Thann-Matzbach, Walpertskirchen and Hörlkofen and also goes directly to Munich East station (Ostbahnhof) from whence it is easy to get the underground which takes only a few minutes to reach the Munich trade fair grounds.
Messe München GmbH
Messegelände, 81823 Munich
Telefon: +49 89 949-20720
email: info@messe-muenchen.de
website >>
Current trade fairs and events >>
ICM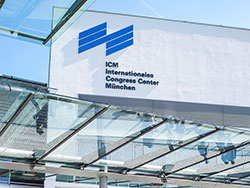 An der Point
81829 Munich
website >>
MOC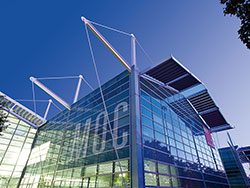 Lilienthalallee 40
80939 Munich
website >>
Photos Messe München (Copyright) "Messe München International"