Cool tips for your winter holiday in the Erding tourist region
Whether ice skating, sledding, downhill or cross-country skiing, winter sports are at home in Bavaria. Admittedly the 'mountains' in the Erding region are not quite as high as in the nearby Alps for downhill skiing, on the other hand the numerous cross-country trails lure classical skiers and skaters. And our sledding slopes around Erding call out to the whole family to come and toboggan. Winter fun pure and simple. Ice skating and ice hockey in the ice rink in Erding or in the club stadium of the ice sport club in Dorfen. And when the cold makes the ponds and lakes freeze over thickly enough to bear then lovers of ice skating and Bavarian curling and children rejoice in being able to enjoy their fun outside! An absolute highlight for the ice skater during Advent is the Ice Days right in the middle of picturesque historical Erding.
Indiluted winter fun – ice skating, Bavarian curling & ice hockey
Ice rink in Erding
Skates can be hired,
open from October to March
Tip: Thursdays from 20 to 23 h Bavarian curling for the general puclic
Eissporthalle Erding (ice rink in Erding)
Am Stadion 14
85435 Erding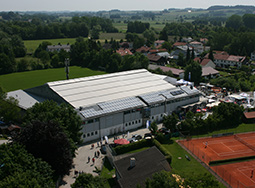 Ice rink in Dorfen
Skates can be hired,
open from October to March
Tip: every two weeks on Saturday ice disco with cool hits and light show from 19.30 h
Dr. Rudolf Stadion
Am Volksfestplatz 2
84405 Dorfen
Ski lifts


An overview with all information about the opening times of the ski lifts and cross-country trails can be found on the ED-live website, but without snow guarantee..
Wasentegernbach's ski club's lift near Dorfen
There is a 172 m long T-bar lift in Wasentegernbach-Loh which is a part of the municipal area of Dorfen. When snow conditions permit this operates daily in the afternoons and twice a week in the evenings under floodlighting. You can find the operating times and whether the lift is open at www.sc-wtb.de.

Ski lift "Schuster Rudi" Weiseberg near Wartenberg
Contact: Ski-Clubs Auerbach e.V.
Cross-country skiing
As soon as snow conditions in the permit the helpers of the respective ski clubs get underway with their trail preparation machines in order to create trails in the snow-covered winter landscape. The following trails are available to all hobby skiers:
Cross-country skiing trails near Wartenberg prepared by the Ski-Clubs Auerbach e.V.
Isar-Canal trail (10 km)
Holzhausen trail (4,2 km)
Einberg trail (1,5 km)
Auerbach trail (1,2 km)
Schachtelberg-Kirchberg trail (2 km)
You can find a trail map along with further information under the heading "service" at this website www.ski-club-auerbach.de.
Lengdorf-Isental trail prepared by the FC Lengdorf e.V., skiing section
Skater trail (2,5 km)
Short trail (5 km)
Extension of the short trail adds a further 7 km to the short trail
You can find a trail map and further information at www.fc-lengdorf.de.
Trails prepared by the Ski-Clubs Buch am Buchrain e.V.
Lappacher trail prepared by the Dorfen Ski Club
In Thalheim near Lappach going towards Isen (7 km & 10 km)
Sledding
Fun for big and small children
Former T-bar tow lift in Haintal, Fraunberg
Indorfer Berg (Fuchsberg Altenerding)
Reschenberg (Lappach / St. Wolfgang)
Ski lift in Loh near Wasentegernbach
Ski lift Weiseberg, Wartenberg