Whatever your heart desires – shopping in Erding and Dorfen
Whilst enjoying a gentle shopping tour through the Erding and Dorfen old town centres, their historic fronts providing an unusual backdrop, you can come across cool fashion trends in an exclusive atmosphere as well as real insider shopping secrets. Sweet delicacies, books, handicraft accessories, elegant second-hand boutiques, children's clothing, brilliant presents and incidental furnishing for your home as well as real gems can be discovered in the charming small shops and boutiques. .
On the outskirts of Erding there are the West Erding Park and the Semptpark Aufhausen and in Dorfen there are the shops in the centre and out in the business park Galgenwiese: in all these areas the number and types of shops have increased continually over the years. Well-known brands and shops beckon you to an extensive shopping tour. In between purchases or when you are finished our gastronomy will pamper you just as you like..
Erding town centre:
Interessengemeinschaft ARDEO e. V.
(consumer and trade organisation)
Lange Zeile 6
85435 Erding
Tel: +49 (0)8122 880 20 40
email: info@ardeo.bayern
website >>
Gewandhaus Gruber
(clothing department store)
Lange Zeile 7-9
85435 Erding
Tel: +49 (0)8122 965-0
email: info@gewandhaus-gruber.de
website >>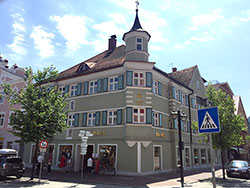 Modehaus Kraus
(women's clothing)
Friedrich-Fischer-Str. 1
85435 Erding
Tel: +49 (0)8122 14166
email: info@modehaus-kraus.de
website >>
Weltladen
(fair trade shop)
Maurermeistergasse 4
85435 Erding
Tel: +49 (0)8122 9455872
website >>


SchokoOh im Turmladen
Landshuter Strasse 18
85435 Erding
Tel: 08122/8686786
website >>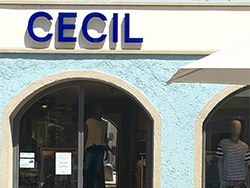 CECIL-Store Erding
Landshuter Strasse 7
85435 Erding
Tel: 08122/9992000
Öffnungszeiten:
Mo - Fr 9:00 - 18:00 Uhr,
Samstag 10:00 - 16:00 Uhr
Erdinger Lesezeichen
Haager Straße 10
85435 Erding
Tel: 08122/228884
website >>
Buchhandlung Leseglück
Heilig-Geist-Hof 3
85435 Erding
Tel: 08122/9442970
E-Mail: info@leseglueck-erding.de
Internetseite >>
West Erding Park:
In the commercial trading park Erding West, along with the shopping centre Erding Park a lot more shops can be found.
Here you can find discount shops, clothing and accessories, from chemist's shops to garden and electrical goods warehouses, in fact everything the heart might desire.

Semptpark:
To the south of Erding, in Aufhausen there is the Semptpark and the Semptpark shopping centre.
Along with supermarkets selling food and drink you can also find shops selling clothing and trachten (local traditional clothing style) fashions, shoes and sportswear and books. There is a florist's, a well-stocked chemist's shop, an optician's, a locksmith, an electrical goods warehouse, a pet requirements shop and a shop selling all kinds of toys.
Shopping and gastro Guide to Munich airport:
A wide range of shops and numerous restaurants and cafés invite you to a stroll and to linger in Munich's Airport City.
For further up-to-date information about new shops etc please visit the Munich airport website.

You can find the shopping and Gastro-Guide here >>
Dorfen town centre:
Gewandhaus Gruber
(clothing department store)
Marienplatz 12-13
84405 Dorfen
website >>
Gruber - Outlet
Kirchtorplatz 2
84405 Dorfen
Tel: +49 (0)8081 2523
website >>